What is SEO, and why is it important?
SEO is the acronym for search engine optimization. Google is the largest and most recognized search engine, followed by Yahoo and Bing. Since Google enjoys a 68% market share, that is where we concentrate the heaviest.
When a person searches for a product or service online, Google identifies and crawls through thousands or hundreds of thousands of websites that have relevance to the visitor's keyword or query. The goal of SEO is to get your company's website to appear in the top 10 search results for search words and phrases that are relevant to what your company provides. Eighty to ninety percent of customers now search online for information, and appearing in the top 10 means that people who are looking for exactly what you offer will be able to find you.
Without SEO, your company has no online presence and this means no online clients or customers. Essentially, you don't exist as a business if you are not in Google's organic results. SEO is much more cost effective than any other method of online marketing targeting nationwide and it's far more measurable than any traditional type of advertising. It gives your business credibility. People trust your brand more if they see that it ranks at the top.
What is Rank Friendly's SEO process?
SEO done right is a collaborative process. So, we provide a full range of services – we build websites, create the design, perform the coding and put in maximum effort to ensure it will be speedy, responsive, fully compatible and mobile friendly.
We research and study your company, industry, and competitors to develop the best strategy for your online success. Our approach is tailored for you, not one-size-fits-all.
We work on a great user experience (UX) design.
We work on development of your website, optimum functionality, optimized speed, mobile friendly and responsive, implemented live chat and analytics tracking.
We create a keyword strategy plan through research and knowledge of your industry and competitors.
We create great expert-quality content.
We launch link building and social media marketing strategies.
We work with AdWords and PPC.
How does Google make money if I don't pay them for better rankings?
SEO drives your company to the top of the search results naturally, without paid ads. Google does sponsor paid rankings through Pay-per-click (PPC) in addition to organic search positions. However, PPC ads represents less than 8% of Google's traffic, as opposed to the remaining 92.08% for organic search results. Despite this large disparity, Google makes over 90% of its revenue from the engine's paid advertising. But visitors depend on Google's organic results because they know these are the best match for what they are seeking.
Which online marketing campaign should I use, SEO or PPC?
You will get the best results by using both marketing approaches. Although organic search results drive over 90% of Google's traffic, PPC cannot be ignored. Paid ads are an excellent way to jump start your online presence while working on your organic results campaign, and the data and research from PPC campaigns provide great insight for effective long-term SEO strategies.
Can you give me an example out of the 500+ ranking factors that Google considers when determining search results?
Google uses a very complex algorithm to determine what a person is looking for and which sites are most relevant. The results are often not at all obvious. For example, if you enter the keywords "Click here" in Google's search engine, you may be very surprised by the results.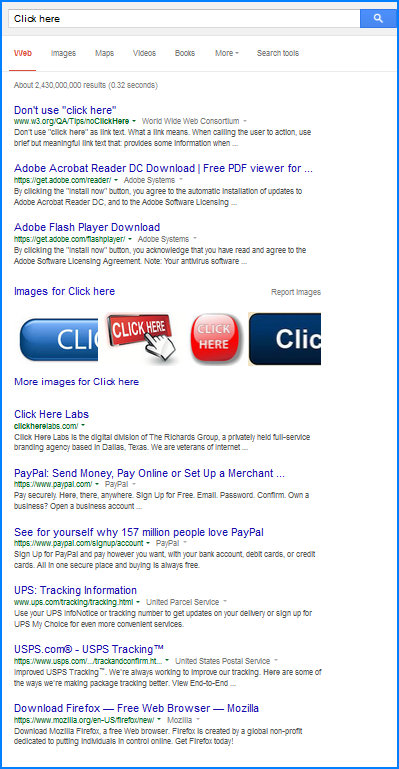 PayPal, Adobe and UPS are on the front page of the search results. Why? If you click on the links provided, the landing pages you are routed to don't even display the words "click here". This is the result of thousands and thousands of links on other website pages that say "click here" and link to PayPal, Adobe, and UPS. So many sites use PayPal to accept payment for their services and products, UPS to offer tracking for shipments and Adobe for video links, that a massive number of websites include "click here" links that direct to these major websites. This is just one example of the power of having links pointing to your website with specific anchor text.
Also note that clickherelabs.com ranks on the first page for this search as well. This demonstrates the power of including important keywords in your domain name.
What strategy should we use to win?
Many SEO companies strive to "crack the code" of Google's search algorithm in order to manipulate their clients' websites into the top search results. At Rank Friendly, we don't believe anyone can outsmart Google for too long. And if you can't beat 'em, join 'em.
What does Google want? As it turns out, the same thing all business owners want – quality websites at the top of the search engine results. Google wants to keep giving its users reliable, relevant, accurate search results by offering them links to websites that meet their search needs and provide them with an excellent user experience. Guess what? That's exactly what Rank Friendly provides.
We create beautiful, sharp, quality websites for our clients that are speedy, optimized for mobile devices and filled with great content. We build websites that our clients will love and that Google will rank at the top.
Another great benefit of our approach is that when other SEO companies are filled with anxiety, fear and panic over the newest Google update or algorithm change, at Rank Friendly, our clients and our team can sit back and relax. We understand that as Google continues to perfect its search algorithm, it will also continue to more accurately discover our quality websites and rank them highly for even more keywords.
We work with Google, not against them, creating a win-win solution. We share the same goals: Google wins by ranking the websites we build at the top. Your web visitors win by visiting your awesome website and we win by driving traffic and converting customers for our clients.
It's Google's World. But we don't just have to live in it. We can WIN IN IT!
Can small businesses rank on top?
If you're a small business owner, you may be worried about competing against the big guys. Don't be. It's a different ballgame online. It actually helps level the playing field. Google is only 15 years old. Bigger companies don't have any better understanding of this new online arena than the little guys. Also, there are enough long keywords that will work for you that they don't focus on.
Offline marketing is very different. You need a good physical location, not too close to your competitors, and the money you have to spend on location has a big impact. Not so, online. You can start your business faster – essentially attracting customers the day after launching your website. Updating and changing is easy too, and you can easily test new ideas with little to no risk.
The essential factor is making sure what your customers see is amazing when they visit your website. That's what we do at Rank Friendly.
How do I know whether to outsource SEO or handle it in-house?
You can handle SEO in-house, but it will be a very big job, and it calls for more than one professional. You need a Google expert who knows how search engine ranking works and what features and factors are important. Bear in mind that Google makes changes regularly in how it ranks websites. You also need people who are skilled in website design and development, writing content, keywords and link building and social media marketing. A full-time SEO pro alone will cost between $53,000 and $140,000 in annual salary.
The services of a good SEO company will range from about $3,000 to $5,000 per month. This should get you a basic but effective marketing campaign that is provided through the skills and services of a full team of SEO professionals.
In-house vs. outsourcing is a subjective decision. Weigh costs, time and commitment against experience and results to decide what it best for your company.
What should I know before hiring an SEO company?
Look for an SEO company that promotes natural/organic search engine optimization techniques that focus on providing your website customers with an excellent experience that meets their needs.
Ask the following questions when selecting an SEO company:
Do you have references from satisfied clients?
Do you follow the Google webmaster guidelines?
Do you offer other online marketing services?
Do you have any experience in my industry?
Do you optimize your websites for mobile platforms?
Do you offer pre-packaged plans or do you tailor your approach to individual clients and their unique needs?
Do you do your research about my business area and my competitors before taking on my business?
Transparency is important. Your SEO Company should be able to clearly explain how they will be boosting your rankings and why their steps work. Avoid any SEO firms that advocate scams or "black hat SEO" tactics. Don't fall for unrealistic promises.
Are rankings guaranteed?
An experienced SEO firm is a bit like a seasoned attorney with a proven track record of winning cases. He makes a great case in front of the judge and jury, follows all the rules and procedures, and presents strong, hard evidence. Ultimately though, the decision is up to the judge or jury.
Just as Google states, "No one can guarantee a number one ranking on Google." But this doesn't mean you have to shell over money for an SEO campaign on blind faith alone. Make sure you choose an SEO company with references and a history of successfully driving clients to the top. And take smart steps to minimize your risk.
How can we reduce our risk when investing in SEO?
Before launching an SEO campaign, do some testing with PPC and AdWords. This gives you an indication of what kind of results and traffic you may be able to expect with an aggressive SEO strategy.
Begin by identifying long tail keywords that work for your market but don't provide much competition. Move your focus to more competitive keywords once these original 50 start performing at the top.
Rank Friendly offers a pricing model where we charge you something to begin work and build an amazing website for your business. We provide maintenance services and gradually push your website to the top for targeted keywords. At this point you are making reasonably small ongoing payments until we have driven your website onto the first 5 Google result pages for about 30 keywords.
Once we accomplish this, the real push comes in. Now you're going up against the hard hitters on the first and second search results pages. But we've laid the groundwork and this is when the bulk of your investment will be used to aggressively get you to the finish line.
This method effectively minimizes your risk and puts you ahead in the game before you deliver the largest part of your monetary investment.
How long does it take to see results with SEO?
Every project is different, but you will typically start to see results in around six months. And when something is built on a strong foundation, it will continue to perform well for many years to come.
How much does it cost?
This depends on how competitive your industry is. Full projects range anywhere from $3,500 to $10,000 per month for a full-scale campaign. We also provide competitively priced consulting packages where we deliver advice and guidance.
If a company has negative reviews or RipOff Reports that appear in Google results, what can be done?
If you operate in the United States, your best option is Reputation Management. This is accomplished through the creation of positive feedback for the search engines to rank. Though you cannot have the negative reviews or RipOff report removed from the internet, you can work to drive this negative feedback lower in the search engine results, by having it replaced with great pages about you and your company. Most searchers never venture further than the second page of results and often never move past the first page. Your best strategy is to get the negative results pushed into the second and third pages through reputation management efforts. Rank Friendly can help you with this.
In Europe there is a "right to be forgotten". In limited cases, this allows some companies to have negative feedback and reports removed from the search engines.
Does Rank Friendly service a specialized niche?
Each project is a project in and of itself and we pride ourselves on knowing the industries of our clients inside and out.
We specialize strongly in the financial and legal industries, as well as the event planning industry. These are "Request-a-quote" industries. Web searchers and potential clients in these areas generally go online seeking more information about the services provided in these industries, unlike those in the e-commerce set.
We do provide SEO services to e-commerce businesses. However, our niche is in the industries that attract visitors seeking more knowledge about the field and wanting to request a quote for services.